Gloucester Waterways Museum
Occupying three floors of Llanthony Warehouse, this museum (formerly known as the National Waterways Museum, Gloucester) features life on Britain's inland waterways using artifacts, photographs, videos and computer interactives. It has a shop that is open to all. Historic craft moored by the quay side include steam dredger SND No 4, tug Severn Progress, barge Sabrina and narrow boats Northwich, Wye and Oak. (More)

Soldiers of Gloucestershire Museum
Occupying the former Custom House at the north end of the Victoria Dock, this Museum tells the story of the lives, travel and service of the men of the Gloucestershire Regiment and the Gloucestershire Huzzars over the last 300 years. (More)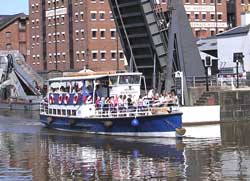 Gloucester Leisure Cruises
45 minute trips down the canal and back from the Waterways Museum and some longer cruises on the canal and River Severn. See website for times.
Gloucester Antiques Centre
The Antiques Centre that formerly occupied the warehouse by the lock has moved to new premises on the corner of Llanthony Rd and High Orchard St in the Gloucester Quays development. It has over 100 individual dealers selling a wide range of antiques and collectables, and there is a cafe on the second floor. (Website)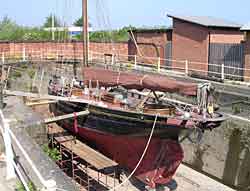 Working Dry Docks
Maintenance and repair work on vessels in and around the large and small dry docks is managed by T Nielsen & Co. Craftsmen can be seen at work using traditional skills aided by modern tools. For information on interesting vessels currently at Gloucester, see Vessels for Overhaul.
Gloucester Quays Designer Outlet Centre
To the south of the main docks area is the Gloucester Quays designer outlet centre which has an outstanding mix of high street and designer labels at up to 60% off recommended retail prices. Refreshments are available at various coffee shops and restaurants. (Website)
Narrowboat Day Hire
Gloucester Narrowboats offer a day boat for hire with seating for up to ten passengers, a galley and a flushing toilet. (Website)
Sula Lightship Holistic Centre
Lightship Sula, permanently moored beside Llanthony Quay, is a centre for complementary therapies such as aroma-therapy, Reiki and crystal and sound healing. The centre has a workshop area for training courses, a shop selling related products and tea & coffee are served on the deck. (Website)
Mariners Chapel
The chapel in the centre of the docks is open to visitors each day, and services are held on Sundays at 10.30 am and at times during the week - see website for details.
Guided Tours
Gloucester Civic Trust guides lead tours around the docks for pre-booked parties. (Website)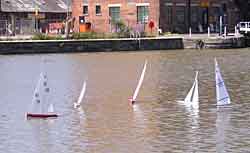 Model Boat Displays
Members of the Gloucester & District Model Boat Club sail their models from the entrance to the Victoria Dock each Saturday afternoon. These include yachts, tugs, paddle boats, hovercraft, submarines, warships, patrol boats, lifeboats and motor cruisers. (Website)
Gloucester Sea Cadets
The cadets moor their boats in the Barge Arm and may often be seen using them on Monday or Thursday evenings during the summer. (Website)
Upstairs Downstairs Antiques
Specialists in clocks, furniture and lighting, across Severn Rd from the Lock Warehouse. Cafe on the first floor.
Silent Water
Gifts, jewellery and home style shop between the Mariners Chapel and the Barge Arm.
Gloucester Brewery
A micro brewery in the courtyard adjoining the Waterways Museum, open every day except Mondays offering four different ales and guided tours. (Website)
MV Edward Elgar
This vessel, based at Alexandra Quay, is the biggest hotel boat now cruising UK inland waters. She offers holiday cruises for 2 to 7 days right along the Severn navigation between Sharpness and Stourport-on-Severn. (Website)