An early type of railway for horse-drawn wagons was opened between Gloucester and Cheltenham in 1811, the main purpose being to facilitate the carriage of coal to Cheltenham. It was eventually superceded by the Midland Railway Company's lines worked by steam locomotives, and the cast-iron rails were taken up in 1861. This page outlines the history of the line and describes what remains today.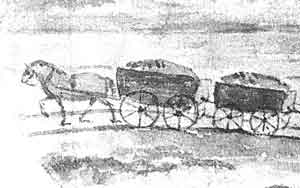 Permanent Way
The line to Cheltenham had a single track with passing places. Stone sleeper blocks supported cast-iron rails that were 3ft long and L-shaped in section to suit wagon wheels without flanges. Any trader could put his own wagons and horses on the track provided he paid the appropriate toll. This type of line is now known as a tramroad to distinguish it from the later main-line railways having flanged wheels running on edge rails.
Early Operation
The opening of the tramroad in 1811 induced the Canal Company to allow the basin at Gloucester to be used for the discharge of river-borne cargoes even though the rest of the canal was very far from completion. Over the following years a network of sidings was laid down around the basin to handle the trade that developed, boosted by the eventual opening of the canal in 1827. Most of the traffic was concerned with taking coal to Cheltenham, but road stone and other heavy goods were also carried. For further information about the operation of the tramroad, including the trial use of a steam locomotive, see The Gloucester and Cheltenham Tramroad by David Bick (from which the above illustration is taken).
Later Operation
In 1840, a main line railway was opened between Gloucester and Cheltenham, as part of the line to Birmingham, but initially there was no connection to the docks. The tramroad therefore took on a new role of carrying goods between the docks and Gloucester station, and so for a few years it became an important link in a new route for forwarding imports to the Midlands in competition with the existing river and canal route. This additional role ended in 1848 when a branch from the main line into the docks was opened, but the tramroad continued to provide a local service for several more years. This role gradually declined, however, and in 1861 the line was closed and the rails were taken up.
Surviving Stone Blocks
Although the rails were taken up, many of the stone sleeper blocks were left in situ at that time, and some were discovered still undisturbed during an archaeological excavation in 1983 - see pictures below. For a full report of the excavation, see GSIA Journal for 1983. The stones were subsequently covered over to allow the area to be used as a car park, and they were revealed again during preparations for building a block of apartments on the site.